The United States District and Bankruptcy Courts for the District of Idaho as well as Probation and Pretrial announce operating with reduced staff. For full details and pro se email filing links, please visit the COVID-19 Information section of this website.
The District of Idaho is currently operating under a "Moderate Risk" level. Public access to the courthouses will be strictly limited to those individuals with specific business, e.g., those attending a hearing or visiting their probation officer. All individuals (unvaccinated and fully vaccinated), including staff, are required to wear a mask when in the public areas of the courthouses. Mask requirements for all in-court proceedings will be subject to the presiding judge's discretion.
United States Bankruptcy Court
Welcome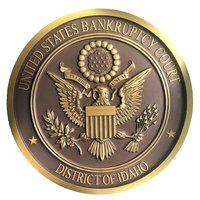 Welcome to the U.S. Bankruptcy Court for the District of Idaho.
We hope this website will provide useful information about the Court, its operations and its processes, and answer many of the questions you might have. Please let us know if you have suggestions to improve the site.
Below you can find the latest news from the Bankruptcy Court for the District of Idaho.

The calendar updates as new information becomes available and is subject to change without notice. To schedule a hearing, contact the courtroom deputies.


Proposed Dates for Chief Judge Joseph Meier 2021

Proposed Dates Judge Noah G. Hillen 2021 Rev 3/9

Proposed dates for Judge Noah G Hillen 2022

341(a) Meeting of Creditor Dates 2021
Revised September 20, 2021

GO 404 re Merit Selection Panel
Oct 07, 2021
New General Order naming the members of the Merit Selection Panel to select the District's new magistrate judge.

Emergency Rental Assistance Programs
Oct 06, 2021
Emergency rental assistance programs available to renters and landlords facing challenges due to the COVID-19 pandemic.

Video of Judge Patricco's Investiture
Sep 22, 2021
Please click to view the video of U.S. Magistrate Judge Raymond E. Patricco's investiture ceremony on September 17, 2021.

Sonyalee Nutsch Appointed as Lawyer Representative
Sep 20, 2021
Sonyalee Nutsch has been appointed Lawyer Representative for the 1st and 2nd Districts. Her term will begin January 1, 2022.

Print Me