The United States District and Bankruptcy Courts for the District of Idaho as well as Probation and Pretrial announce operating with reduced staff. For full details and pro se email filing links, please visit the COVID-19 Information section of this website.
The District of Idaho is currently operating under a "Moderate Risk" level. Public access to the courthouses will be strictly limited to those individuals with specific business, e.g., those attending a hearing or visiting their probation officer. All individuals (unvaccinated and fully vaccinated), including staff, are required to wear a mask when in the public areas of the courthouses. Mask requirements for all in-court proceedings will be subject to the presiding judge's discretion.
Bankruptcy Judge Noah G. Hillen
General Information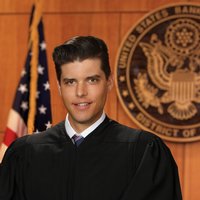 The Honorable Noah G. Hillen was appointed as a United States Bankruptcy Judge by the Ninth Circuit Court of Appeals, commencing service on August 31, 2020.
Judge Hillen graduated from the College of Idaho in 2004 and the University of Idaho College of Law in 2007. After law school, he served as a law clerk to Justice Joel D. Horton of the Idaho Supreme Court.
From 2010 to 2014, Judge Hillen practiced commercial litigation and bankruptcy law in Boise, Idaho, primarily representing creditors and trustees in chapters 7, 11, 12, and 13 proceedings. He frequently represented financial institutions in complex commercial litigation and workout agreements. From 2014 to 2020, he served as a chapter 7 panel trustee for the District of Idaho.

Print Me