The United States District and Bankruptcy Courts for the District of Idaho as well as Probation and Pretrial announce operating with reduced staff. For full details and pro se email filing links, please visit the COVID-19 Information section of this website.
The District of Idaho is currently operating under a "Moderate Risk" level. Public access to the courthouses will be strictly limited to those individuals with specific business, e.g., those attending a hearing or visiting their probation officer. All individuals (unvaccinated and fully vaccinated), including staff, are required to wear a mask when in the public areas of the courthouses. Mask requirements for all in-court proceedings will be subject to the presiding judge's discretion.
United States District & Bankruptcy Courts
Media Information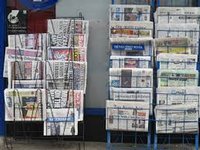 Basic information for journalists covering the Idaho court system is provided in the below links.
Media requests may be directed to the Clerk of Court, Stephen W. Kenyon, (208) 334-1373.
If you require a document from the case docket, please see our procedures on how to obtain case documents. Please note that the public does not have access to sealed documents.
The District of Idaho's General Order 254 provides information on wireless portable devices in the courtrooms.

U.S. Courts Media Information

Idaho Supreme Court
WiFi in Courtrooms
Information on free WiFi in courtrooms.

Latta, et al. v. Otter, et al.
Memorandum Decision and Order was issued in the case of Latta, et al. v. Otter, et al.

U.S. Department of Justice
Notice Regarding Debtor Audits

U.S. Marshal Service
Citizens of Idaho Continue to be Targets of Telephone Scammers

Print Me