This page you requested does not seem to exist or has moved. The Webmaster has been notified and we will get this sorted out pronto!
If you came here from a bookmark, please delete it and find the new destination using the Horizontal Menu above in conjunction with the Left Navigation for that section or try the search.
Please enjoy other areas of our site and have a great day!
United States Bankruptcy Court
Welcome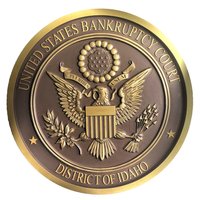 Welcome to the U.S. Bankruptcy Court for the District of Idaho.
We hope this website will provide useful information about the Court, its operations and its processes, and answer many of the questions you might have. Please let us know if you have suggestions to improve the site.
Below you can find the latest news from the Bankruptcy Court for the District of Idaho.

The calendar updates as new information becomes available and is subject to change without notice. To schedule a hearing, contact the courtroom deputies.


Proposed Judge Myers Calendar 2016 (Rev 5/31/16)

Proposed Dates for Judge Jim D. Pappas 2016

341(a) Mtg of Creditor Dates 2016

District of Idaho Courthouses Closed - October 10
Sep 26, 2016
The District of Idaho Courthouses will be closed on Monday, October 10 in observance of Columbus Day.

Registration for Boise Bench Bar Conference
Aug 24, 2016
Presented by the Idaho Chapter of the FBA In Partnership with the District of Idaho
The Judicial Conference Advisory Committee on Rules of Practice and Procedure have proposed amendments to their respective rules.

Public Comment Period for Federal Rule Amendments
Jul 01, 2016
The Judicial Conference Advisory Comm on Bankruptcy Rules has proposed amendments to FBR 3015 and adoption of a new FBR 3015.1.

Tri-State FBA Conference October 13-15
May 23, 2016
The Tri-State Conference will be held in Sun Valley on October 13-15. Click on the link for registration info.

Print Me