This page you requested does not seem to exist or has moved. The Webmaster has been notified and we will get this sorted out pronto!
If you came here from a bookmark, please delete it and find the new destination using the Horizontal Menu above in conjunction with the Left Navigation for that section or try the search.
Please enjoy other areas of our site and have a great day!
United States Bankruptcy Court
Welcome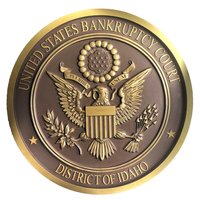 Welcome to the U.S. Bankruptcy Court for the District of Idaho.
We hope this website will provide useful information about the Court, its operations and its processes, and answer many of the questions you might have. Please let us know if you have suggestions to improve the site.
Below you can find the latest news from the Bankruptcy Court for the District of Idaho.

Proposed National Rule/Form Changes- Ch 13 Plan
Feb 09, 2017
Please see the attached information regarding pending FRBP and Official Form changes regarding the chapter 13 plan form.

New Standing Chapter 12 Trustee for the District
Jan 31, 2017
Gary L. Rainsdon has been appointed a standing chapter 12 trustee for the District of Idaho, effective February 1, 2017.

Notice re: Discontinued Twin Falls Hearings
Dec 05, 2016
The U.S. Bankruptcy Court will discontinue hearings in Twin Falls effective January 1, 2017.

Print Me