This page you requested does not seem to exist or has moved. The Webmaster has been notified and we will get this sorted out pronto!
If you came here from a bookmark, please delete it and find the new destination using the Horizontal Menu above in conjunction with the Left Navigation for that section or try the search.
Please enjoy other areas of our site and have a great day!
United States Bankruptcy Court
Welcome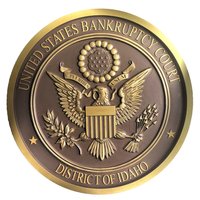 Welcome to the U.S. Bankruptcy Court for the District of Idaho.
We hope this website will provide useful information about the Court, its operations and its processes, and answer many of the questions you might have. Please let us know if you have suggestions to improve the site.
Below you can find the latest news from the Bankruptcy Court for the District of Idaho.

Moscow Court Hearings to be Discontinued 9/1
Aug 04, 2017
Please see the Courts' Notice regarding Moscow Court hearings. This does not impact §341(a) Meetings.

Press Release re Judge David C. Nye
Aug 01, 2017

FBA Brown Bag CLE - Coeur d'Alene- Aug 16
Jul 20, 2017
**UPDATE** Join Chief Judge Winmill will be introducing Judge David C. Nye. Lunch will be provided.

Notice re 2018 Lawyer Representative
Jul 18, 2017
Attn 4th District attorneys: If you are interested in becoming a District of Idaho lawyer representative, deadline is Sept 15.

Jury Scam in Idaho
Jun 28, 2017

Change in Jerome 341(a) Meeting Location
Jun 16, 2017
There will be a temporary change in the 341(a) Meeting effective July 1st.

Tri-State FBA Conference Oct. 5-7 - Jackson, WY
May 16, 2017
The 13th Annual Tri-State Conference program information is available. Hotel and conference registration is now open.

Print Me