United States Bankruptcy Court
Welcome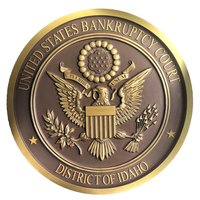 Welcome to the U.S. Bankruptcy Court for the District of Idaho.
We hope this website will provide useful information about the Court, its operations and its processes, and answer many of the questions you might have. Please let us know if you have suggestions to improve the site.
Below you can find the latest news from the Bankruptcy Court for the District of Idaho.

Message from Judge Pappas to the Bankruptcy Bar
Mar 22, 2017
Judge Jim Pappas has released a message to the Idaho bankruptcy bar regarding his intention to retire.

FBA Brown Bag Lunch- Coeur d'Alene- April 19th
Mar 18, 2017
Chief Judge Bush will discuss items of interest to the federal practitioner. Lunch will be provided.

Microsoft Word Documents Emailed to the Court
Mar 16, 2017
Please read the Court's advisory message regarding Microsoft Word documents containing embedded macros.

Updated Means Testing Data Effective April 1, 2017
Mar 16, 2017
Updated Census Bureau Data applicable to cases filed on or after April 1, 2017 is now available on the US Trustee's website.

New Ninth Circuit Executive
Mar 09, 2017
Ninth Circuit Press Release announces Libby Smith as the new Ninth Circuit Executive

Jury Duty Phone Scam
Mar 07, 2017
Telephone scammers are impersonating the U.S. Marshal's office using an Emmett, ID phone number.

Proposed National Rule/Form Changes- Ch 13 Plan
Feb 09, 2017
Please see the attached information regarding pending FRBP and Official Form changes regarding the chapter 13 plan form.

New Standing Chapter 12 Trustee for the District
Jan 31, 2017
Gary L. Rainsdon has been appointed a standing chapter 12 trustee for the District of Idaho, effective February 1, 2017.

Print Me