United States Bankruptcy Court
Welcome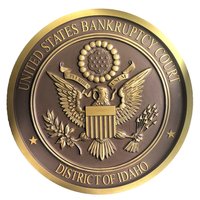 Welcome to the U.S. Bankruptcy Court for the District of Idaho.
We hope this website will provide useful information about the Court, its operations and its processes, and answer many of the questions you might have. Please let us know if you have suggestions to improve the site.
Below you can find the latest news from the Bankruptcy Court for the District of Idaho.

The calendar updates as new information becomes available and is subject to change without notice. To schedule a hearing, contact the courtroom deputies.


Proposed Dates for Chief Judge Joseph Meier 2019

Proposed Dates for Judge Terry L. Myers 2019
(Revised 10/24/18)

341(a) Meeting of Creditor Dates 2019

Updated Means Testing Data Effective May 1, 2019
Apr 12, 2019

Joseph Edward Duncan, III v. United States
Mar 22, 2019
Order issued in the case of Joseph Edward Duncan, III vs. United States of America.

Notice: Dollar Amounts and Forms Changes 4/1/19
Feb 20, 2019
Please read the attached Notice regarding automatic adjustments to certain dollar amounts and amended forms set for April 1, 2019.


Print Me