United States Bankruptcy Court
Welcome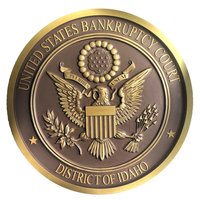 Welcome to the U.S. Bankruptcy Court for the District of Idaho.
We hope this website will provide useful information about the Court, its operations and its processes, and answer many of the questions you might have. Please let us know if you have suggestions to improve the site.
Below you can find the latest news from the Bankruptcy Court for the District of Idaho.

The calendar updates as new information becomes available and is subject to change without notice. To schedule a hearing, contact the courtroom deputies.


Proposed Dates for Chief Judge Terry L. Myers 2018
(Revised 11/15/17)

341(a) Meeting of Creditor Dates 2018

Proposed Dates for Judge Meier 2018

2018 Civics Contest Finalists
Jun 12, 2018

Federal Rules changes set for Dec 1, 2018
May 31, 2018

Fee changes set for June 1st
May 31, 2018
Attorney admission and pro hac vice fees will increase to $250 effective June 1. Please see General Order #329.

MY FELLOW AMERICANS
May 24, 2018
Naturalization hearing in Pocatello sees 19 people become U.S. Citizens

Brown Bag CLE - Boise - July 17 at noon
May 21, 2018
Brown Bag CLE on Immigration in the Trump Administration to be held at the Idaho Supreme Court.

Updated Means Testing Data Effective May 1, 2018
Apr 25, 2018
Updated Census Bureau Data applicable to cases filed on or after May 1, 2018 is now available on the US Trustee's website.

New Bankruptcy Judge Appointed
Feb 21, 2018
The Court of Appeals Appoints New Bankruptcy Judge for the District of Idaho

Print Me