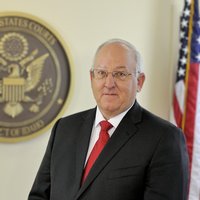 Chief Judge David C. Nye welcomes you to the U.S. District Court for the District of Idaho. In 1891
was appointed by President Harrison to become the first Federal Judge for the District of Idaho. We have a long and proud history rooted in our commitment to provide an impartial and accessible forum for the just, timely and economical resolution of legal proceedings within the jurisdiction of the Courts.
The District of Idaho has had 11
Judges appointed by the President of the United States, with two of them currently presiding. In addition to our two Article III Judges, we have two Magistrate Judges assisting with our busy workload.
Our judges hold court in Boise, Coeur d'Alene, and Pocatello.

The calendar updates as new information becomes available and is subject to change without notice. To schedule a hearing, contact the courtroom deputy.


Susie Headlee Receives FBA Lifetime Service Award
Nov 01, 2021
Susie Headlee received the FBA's Lifetime Service Award at the 2021 District of Idaho Bench Bar Conference.

Public Notice re District Local Rule Changes
Oct 25, 2021
The public is invited to review the attached proposed Local Rule changes. Comments are due by December 1, 2021, at 5:00 p.m. MST.

GO 404 re Merit Selection Panel
Oct 07, 2021
New General Order naming the members of the Merit Selection Panel to select the District's new magistrate judge.

Emergency Rental Assistance Programs
Oct 06, 2021
Emergency rental assistance programs available to renters and landlords facing challenges due to the COVID-19 pandemic.