What is Naturalization?
Updated on Oct 07, 2021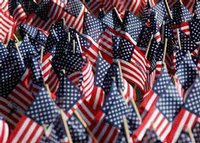 Naturalization is the process by which U.S. Citizenship is conferred upon a foreign citizen or national after he or she fulfills the requirements established by Congress in the Immigration and Nationality Act (INA) (see below).
The bureau of U.S. Citizenship and Immigration Services (USCIS) processes all naturalization applications and provides the Court with a list of the candidates selected to be naturalized in the Federal Court.
Currently, the selection consists of only those petitioners who have requested to:
Participate in the Naturalization Ceremony and swear the oath of allegiance in formal court proceeding.
Change their names legally and have their new names appear on the Certificate of Naturalization.
Note: The U.S. District Court DOES NOT process name changes after the Naturalization process has been completed. Citizens who wish to amend the Name Change Petition after it has been granted, or who are wishing to change their name after the Naturalization process has been completed will need to go through their county court system, and follow that county's procedures for a name change.
Naturalization Ceremonies are held in Boise and Pocatello. For a schedule of hearings on petitions, click the Naturalization Schedule below.
If you need further information concerning the naturalization process, information in regard to old naturalization records, or more specific ceremony information: please call the U. S. Court Naturalization Clerk's Office at 208-334-9387.
Naturalization Ceremonies
The District of Idaho is operating in a limited capacity due to the COVID-19 Pandemic. During this time, all previously scheduled Naturalization Ceremonies are canceled. We will be working to schedule ceremonies at a later date and will post a schedule when dates have been determined.
Please note that the United States Citizenship and Immigration Service (USCIS) also holds administrative Naturalization Ceremonies that do not involve the Court. If you have a question about your ceremony or need additional assistance, please call the USCIS Contact Center at 800-375-5283 or visit the USCIS Contact Center website at: www.uscis.gov/contactcenter.
Immigration Services
Updated on Aug 05, 2014
The Idaho State Library has microfilm containing most of our older naturalization records. The most recent information would only be available from the federal court or through the Bureau of Citizenship and Immigration Services in Boise or Helena, Montana.

US Citizenship and Immigration Services

A Guide to Naturalization

Welcome to the United States
A Guide for New Immigrants

Immigration and Nationality Act (INA)

Oath of Allegiance